What Do You Need to Setup a WooCommerce Store?
You will need these 3 things before you can setup your WooCommerce Store
The above items are not free and cost money. If you want to do this without any money upfront, instead of signing up for a webhost, read this.
Bluehost and Hostgator are 2 of the biggest hosting companies in the world. They host millions of websites on the internet along with many of our own.
Now that we have covered the basic WooCommerce requirements, let's see how to set up WooCommerce with step-by-step instructions. For the sake of brevity and simplicity, we will be providing setup instructions to Bluehost . Setting up on other hosts should be similar. Just follow their provided instructions.
Step 1. Getting Started with WooCommerce
First, you need to visit the Bluehost website and click on the 'Get Started Now' button.
Next, you will be asked to select a plan for your hosting account. Basic and Plus plans are popular among many users, and remember you can always upgrade to get more resources later when you need them.
Click to select a plan and continue.
After that, you will be asked to register a new domain name or use an existing domain name that you already own.
Here are some quick tips on choosing the perfect domain name for your WooCommerce store.
Use keywords in your domain name. For example, if you want to sell gardening supplies then use it in your domain name as keyword.
Use your brand name in your domain name
Stick to .com extension
Do not use numbers or hyphens in your domain name. This makes them hard to pronounce and spell
It is important to spend time choosing the right domain name for your business, so that the name is easy to remember for your customers, and that the name applies to your business.
Once you have chosen a domain name, click on the next button to continue.
Now, you will be asked to provide account information and finalize the plan details. 
Below that you will see optional extras.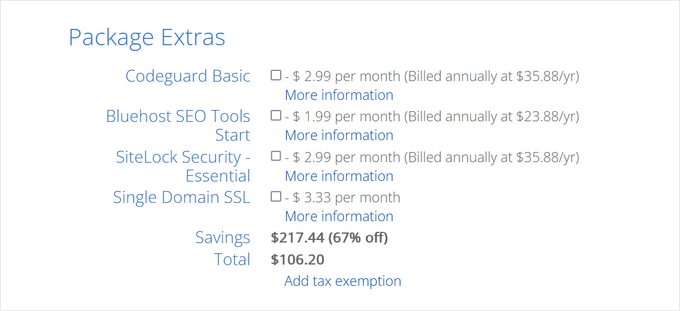 After that, fill in your credit card information and click on the submit button to complete the purchase.
Once you have made the payment, Bluehost will send you an email with details to log in to your web hosting dashboard. The dashboard is where you'll manage your website.
Step 2. Setting up WooCommerce and WordPress
Both Bluehost and Hostgator offer 1-click WordPress installation. You can refer to these installation instructions here;
After you complete your installation, you can log in.
You will now see the WordPress dashboard.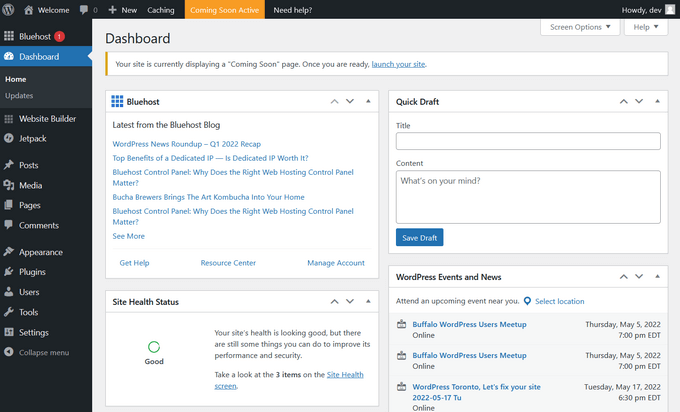 Now before we install WooCommerce, let's first set up basic WordPress settings.
Go to the Settings page in the WordPress admin area and change your website's title and optionally provide a tagline (description).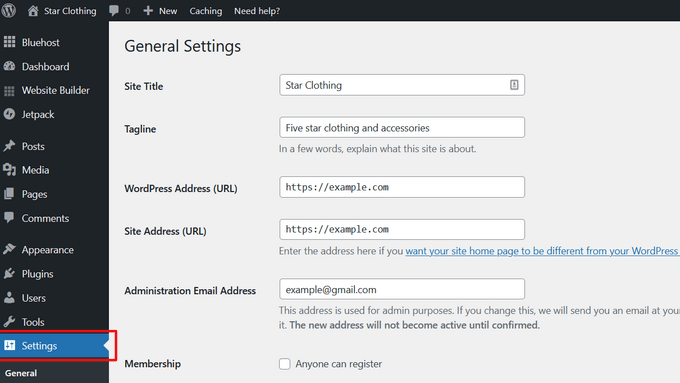 Bluehost will automatically install an SSL certificate for your domain name. Make sure that your website URL is showing https and not http.
Next, you need to review the website admin email address. This email address is where you will receive WooCommerce notifications and password reset requests so make sure that it is correct.
After that, scroll down a little and select the timezone settings for your website.
Now, you can review all the settings once again and click on the 'Save changes' button to save them.
Once done, you're now ready to install WooCommerce.
Step 3. How to Properly Install WooCommerce
WooCommerce is a WordPress plugin, so the installation process is similar to any other WordPress plugin. You can follow this step-by-step guide on how to install a WordPress plugin.
Simply visit Plugins » Add New page in your WordPress admin and search for WooCommerce. WordPress will now show plugin search results. You need to click on the 'Install Now' button next to WooCommerce.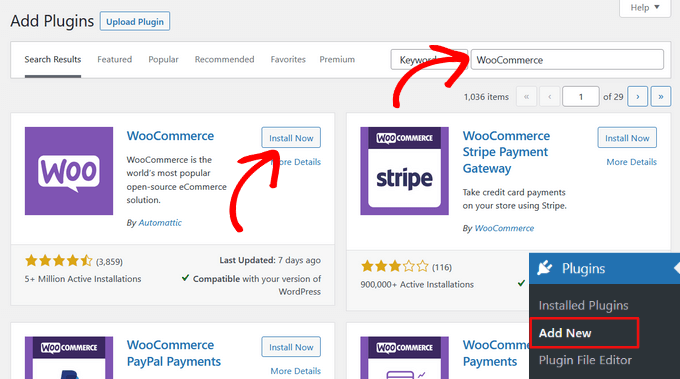 WordPress will now grab the plugin files and install WooCommerce for you.
Once finished, you need to click on the 'Activate' button to start using it.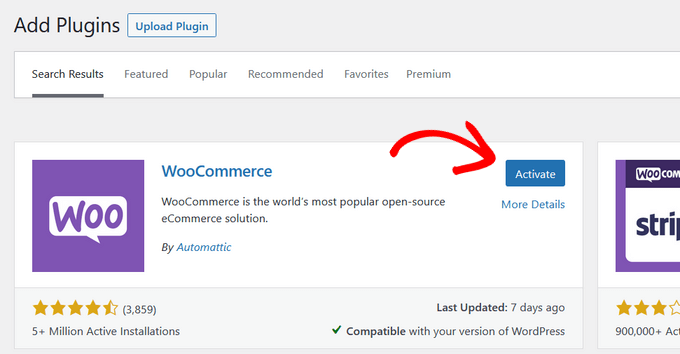 After activation, WooCommerce will launch the WooCommerce setup wizard.
First, you will need to enter your store location. After that, click on the 'Continue' button.
In the next steps, you need to select your industry, product type, and other business details.
The setup wizard will also ask you if you want to add recommended business features to your store. These features are free so you can choose to install them and click the 'Continue' button.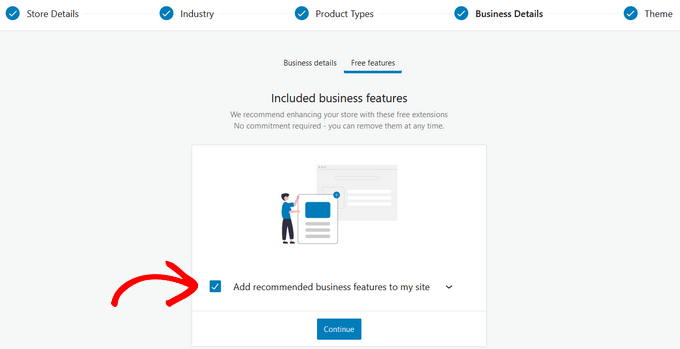 In the last step, you have the option to choose a new WordPress theme or continue with your active theme. 
We recommend that you continue with your current theme for now because you can change your theme at any time. We'll also recommend the best WooCommerce themes you can use later in this article.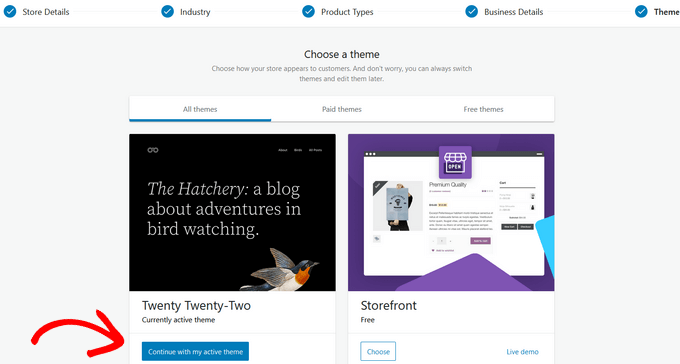 Once you click the 'Continue with my active theme' button, the setup wizard will save all of your WooCommerce settings.
Then, you'll be redirected to the WooCommerce dashboard on your site where you can finish setting up your store.
Step 4. Setting up Your WooCommerce Store
In the WooCommerce dashboard, you'll see a checklist of steps you need to take to customize your online store.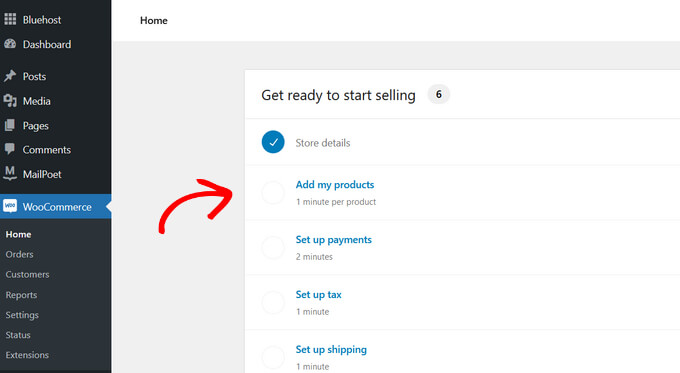 Start by selecting the 'Add my products' task.
Setting up Payments in WooCommerce
Next, you need to add payment options so customers can buy your products online.
Go back to the WooCommerce » Home page to see the WooCommerce setup checklist. Click the 'Set up payments' option.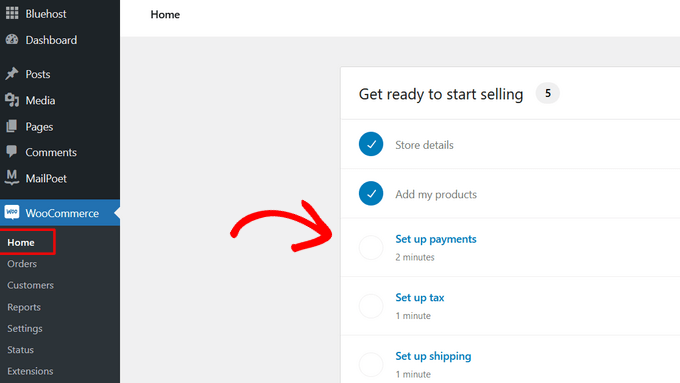 This will open up a page with a list of the payment processors you can connect to. We recommend Stripe and PayPal or even direct bank transfer or cash on delivery.
Select the one you want and follow the easy on-screen instructions to set up the payment gateway.
If you want to add a new payment method in the future, you can go to the WooCommerce » Settings » Payments tab.
Next, we'll show you how to configure your tax rates.
Setting up Tax in WooCommerce
On the WooCommerce home page, the next step in the setup guide is to set up tax.
You can set up taxes with WooCommerce Tax, Avalara, or you can set them up manually. You can also select the 'I don't charge sales tax' option if you don't add taxes.
For this tutorial, we'll show you how to set up taxes manually.
After choosing the manual option, you'll be redirected to the WooCommerce » Settings » Tax tab.
Simply enter your tax details like the country, state, city, and zip code. Then, enter the tax rate and tax name like sales tax or GST.
Don't forget to click the 'Save changes' button to save your tax details.
Setting up Shipping in WooCommerce
Next, you can add shipping options by going back to the WooCommerce setup guide and clicking on the 'Set up shipping' task.
On this page, you can enter the shipping costs within your country or you can leave the price at zero to offer free shipping. You can also set up shipping classes to offer different rates for different types of products.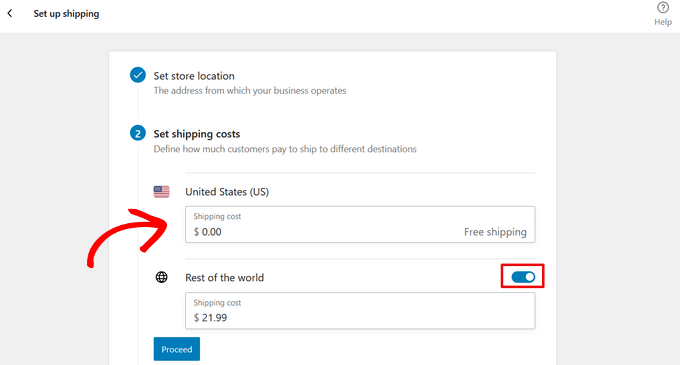 If you're planning to ship to other countries, you can enable the 'Rest of the world option' and enter the costs for different shipping zones.
Once you've entered your shipping prices, click the 'Proceed' button.
Next, you can choose to install and enable WooCommerce Shipping to save time by printing shipping labels at home. Or, click 'No thanks' if you don't need that feature.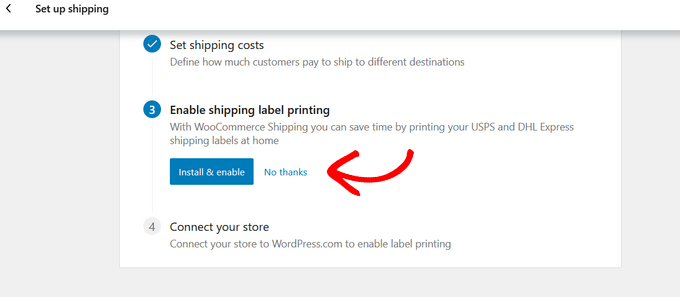 Now that you're finished setting up WooCommerce, let's take a look at how you can further customize your store.
There you have it. Your WooCommerce is setup and ready to go!